Services
Reliability and efficiency are our utmost priorities. We guarantee your satisfaction when you sign up for our services!
We serve a big variety of industries, and are capable of providing a vast number of options for your logistical needs.
From small scale ad-hoc jobs to large scale logistical management projects, our experience of more than 15 years has refined our processes to maximise your productivity and convenience.
Our office is equipped with a GPS system that tracks your courier, allowing us to constantly monitor our fleet and deliveries, so that we minimize delays and maximise efficiency.
Choose Jadia Logistics, Singapore's #1 choice for logistic solutions – for the business or the family.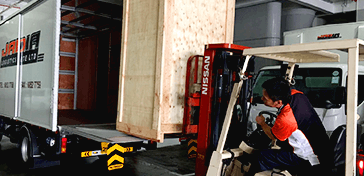 Rental Services
Our rental trucks in our available fleet come with a driver for your convenience.
Logistical needs for Events and Exhibitions can easily be managed, with our extensive options of vehicles available in our fleet, and our provision of required equipment that makes any heavy-duty job a breeze.
We also provide fleet distribution on contractual basis (short or long term).
Trolleys and pallet jacks for big ticket items are available upon request.
Storage
Our warehouse storage facilities are perfect for various commercial or personal purposes:
Management of shipments
Packing and Organisation
Scheduled Distribution
Inventory Management and Control